Meet our Pastor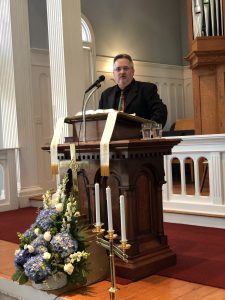 Dr. Paul Esposito
Called as Island's new Pastor in January, 2013.
Paul W. Esposito was born in Summit, New Jersey, in 1963. He has been an active member in the body of Jesus Christ since 1995.
After starting school at Moody Bible Institute, he obtained his Bachelor's Degree in Biblical Studies from Brevard Christian University, in Cocoa, Florida. He earned his Master in Church Administration in 2011, and Ph.D in Theology in 2014, from Christian Faith University. In the works for 2020-21 is a second Ph. D in Ministry from Space Coast Bible College in Cocoa Beach, Fl.
Dr. Esposito has translated both the Greek Old Testament (The Septuagint—The Apostles' Bible), as well as the New Testament (The EMTV). Both works have been published by Author House, Lulu, and now Amazon.
Esposito is also a Bible teacher and expositor, teaching the New Testament verse by verse on his radio program, WGOD Radio, as well as podcasting around the world.